Women beyond topics
Eva Rexach
16 February 2017
Nine authors will speak first-hand about their experience as writers, gender stereotypes, subversive maternities and historical struggles. We will count with a wide array of female constellations to talk about changes in roles and in society.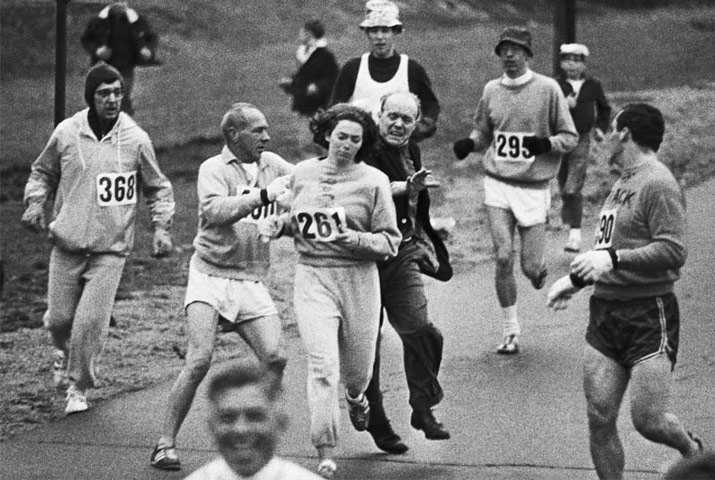 Kathrine Switzer was the first woman to run the Boston Marathon as a numbered entry, in 1967.
Did you know that Serena Williams has won 23 Grand Slam titles and four Olympic golds? And did you know that Roger Federer "just" has won 18 titles and one gold? It doesn't matter: the "best tennis player of all time" is the Swiss.
Despising the success of female athletes means to carry on with a tendency: despise (or underestimate) the achievements of women in other areas. No matter how hard we try, we are always behind in salaries, positions, responsibilities and merits: according to a study made by Observatorio Mujer, Empresa y Economía by the Barcelona Chamber of Commerce, women wages are a 19% lower than men ones, despite having a higher education. There are 772 male mayors and 174 female mayors, 83 male deputies and 52 female deputies. In management positions, there are 45% less female managers and 75% less female professors. We speak of Catalonia, but the data are comparable to those of many countries around us. And these are just a few examples.
Since Mary Wollstonecraft wrote in 1792 the work A Vindication of the Rights of Women, considered the first text that defends our rights, the struggle for equality of rights, for the recognition of women on the same terms as men, has been a constant in history. And if today, well into 2017, we continue talking about it is because there is still a long way to go. And we want to talk about that in Kosmopolis: about contemporary feminisms, about ways to be a woman and a mother, about women who create, write, express and fight from different points of view.
Subversive maternities and repentant mothers
Maternidades subversivas is the title of the work whose writer, the activist Maria Llopis, defines as "a book on politics". Through diverse interviews, Llopis talks about concepts such as queer parenting, trans-hack-feminist motherhood, matriactivism, shared breastfeeding or ecosexuality. These are different forms of living motherhood and pregnancy, which for some will be transgressive or subversive, but for others will be completely normal.
Maria Llopis will be in Kosmopolis to chat with the sociologist Orna Donath, author of a book that, since its publication, caused a great stir: Regretting Motherhood (Madres arrepentidas). Donath dared to speak of mothers who, despite loving their children, do not hesitate to say that if they could go back in time, they would choose not to have them. According to Donath, the social and family pressure to have descendants pushes many women to become pregnant without thinking too much if they really want it, because "the maternal instinct does not necessarily exist". Motherhood is embellished, magnified, justified as the reason for living of every woman, to the point of that the one who decides not to be a mother is considered by some as a selfish person and with a future in solitude surrounded by cats (which, for example, doesn't apply to men: a man without children will always be an "eligible bachelor" while a woman always will be a "spinster").
In the talk between Maria Llopis and Orna Donath will also participate Brigitte Vasallo, who defines herself as a feminist, intercultural mediator and activist of alternative sexual-affective relationships. Vasallo has linked her studies and claims to the Muslim world, but also teaches workshops about non-monogamous relationships and writes in various media on topics related to motherhood and gender. Hers will be a third point of view to enrich the debate.
The feminism of a veteran and two authors to discover
Llopis, Donath and Vasallo drink from the same sources as Lynne Segal, a historian of the feminist struggle, author of Is the Future Female? Troubled Thoughts on Contemporary Feminism, a pioneer book about the subject written thirty years ago. Her latest published book, Out of Time: The Pleasures & Perils of Aging, investigates how aging is treated in men and women. "We must keep ourselves young", writes Segal, "especially women", and so her lecture is entitled "The scandal of aging". Segal will talk about the double standard of aging for men and women, why men are "allowed" to age and show signs of age and how women, instead, have to hide wrinkles, and incidentally, hide our lived story. As Anna Barbauld (1743-1825) wrote, quoted by Mary Wollstonecraft, "In the empire of beauty there is no middle point and woman, whether slave or queen, is quickly despised when not worshipped".
Leaving aside the feminist struggle in sociological disciplines, at Kosmopolis we will also have writers who defend the role of women from literature. We talk about Kirsty Logan and Sophie Divry, two authors that, despite their youth, have already won several literary awards and critical acclaim.
Kirsty Logan, for example, won the Lambda award for LGTB literature with The Gracekeepers, his first novel, which blends the Scottish mythology with science fiction in a story with two women in the leading roles. Sophie Divry, on her behalf, creates characters that define themselves as "feminists" and claims the role of great female writers  (Woolf, Duras, Beauvoir) who paved the way to a literature free of gender stereotypes.
The contribution of female Catalan authors
One of the key moments of this Kosmopolis will be the presentation of an anthology of female authors who write in Catalan. Sixty names, ten indispensable classic writers, from Joana Raspall to Maria Mercè Marçal, Teresa Pàmies or Mercè Rodoreda, and about fifty living female authors, with contemporary names (Núria Perpinyà, Isabel Clara-Simó, Llucia Ramis, Silvia Alcàntara), young promises (Alicia Kopf, Anna Ballbona) and poetesses (Blanca Llum Vidal, Maria Cabrera, Ester Xargay). Another two authors also acknowledged in this compilation, Bel Olid and Marina Espasa, along with the publisher and promoter of the project, Laura Huerga, will be in charge of presenting the book 60 women writers in Catalan, which will be published by Raig Verd with the collaboration of the publications service of the Barcelona City Council, the office UNESCO Barcelona City of the Literature and the Association of Writers in Catalan Language.
To complete this cycle dedicated to women's literature, the poetess Sílvia Bel will offer a performance with the participation of the public aimed to making visible the prejudices of gender in the literature. Would you be able to distinguish whether a text has been written by a man or a woman? That will be the challenge.