Kosmopolis books for this summer
Kosmopolis
19 July 2017
That time of year is here when everyone's offering literary recommendations. Now's the moment to decide which book or books will accompany us over the course of the summer, which stories are ideal for taking to the beach or which classic it's time to take up for those evenings al fresco. Our choice is not based on any of these considerations, but on one that is closer to home: the books we recommend below are all by authors that at some point have participated in Kosmopolis.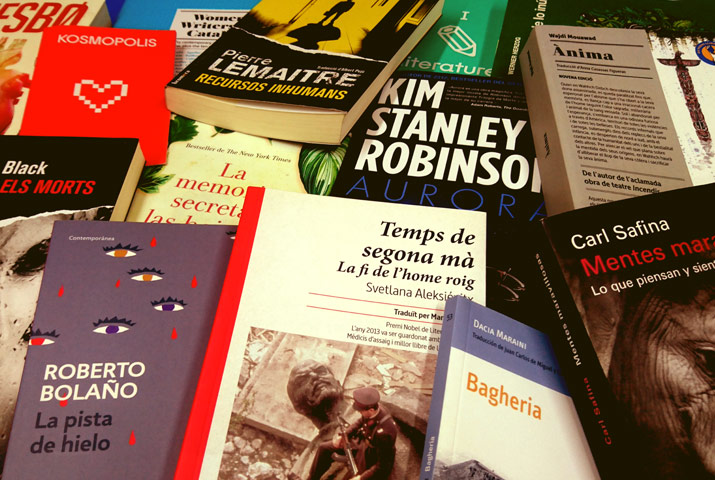 They include authors writing in all genres and stories of all types, because we don't believe that there can ever be one ideal book for the summer, rather an ideal one for each person's mood. For this reason, here's a personal selection by the Kosmopolis team that may be of help if you don't know what book to pack in your suitcase.
For Rosa Puig, who formed part of the coordination team, a major discovery has been Kim Stanley Robinson (Kosmopolis 2017). She explains why: "I'm not a big science-fiction reader, but I must admit that I found the novel Aurora fascinating. In some aspects, it reminded me of the tales by Bradbury that I read as a teenager. It's a story situated in a not-too-distant future that helps us reflect on our present and the plot takes a series of narrative twists that hold you in a state of constant expectation. I would never have imagined that I could be so gripped by stories of quantum computers, planetary orbits, accelerations and decelerations…". She also recommends The Unwomanly Face of War (Svetlana Alexievich, Kosmopolis Continuous Programme 2016), "in reality, I would recommend any of her books because she explains how great events in history and particularly the fall of the Soviet empire have affected the lives of normal, everyday people. Perhaps it's not a particularly summery read but it is necessary and extremely moving. It needs to be taken in small doses".
Mònica Muñoz, head of press, is happy to recommend a classic herself: The Fallen (Juan Marsé, Kosmopolis 2005 and 2015), "because it's the best novel about the post-war that's set in Barcelona; because from a microcosm situated between Gràcia and Guinardó, Marsé explains the cosmos; because Java and company are a set of characters that I will never forget; because once I finished reading this book I started it again so that I could savour it; and because in this country, this city, everyone should read The Fallen if they want to understand where we come from". She also takes the opportunity to recommend a particular publisher, Valeria Bergalli, a participant at Kosmopolis 2004 and 2015 and alma mater of Minúscula, "an exquisite publishing house with such moving titles as Verd aigua (Verde Acqua) by Marisa Madieri, Siempre hemos vivido en el castillo (We Have Always Lived in the Castle) by Shirley Jackson, Bagheria by Dacia Maraini and L'illa (L'Isola) by Giani Stuparich, to select just four that I would not miss re-reading".
Marta Giralt took charge of budgetary management and she recommends three books: La pell i la princesa, by Sebastià Alzamora (Kosmopolis 2006); The Siege, by Ismael Kadaré (Kosmopolis 2004) and El asombroso viaje de Pomponio Flato, by Eduardo Mendoza (Kosmopolis 2004). "I would recommend them because they are books based on historical events (part real, part imagined) but that have marked some period of humankind; they talk about politics, about freedom, about conventionalisms, about human relations, about fear and about doubts; they take you to different eras and make you think (a lot) about how we have changed (or not) our way of seeing the world and our relationships with others and with our environment".
Quima Farré, who is in charge of the programme's texts, recommends a book by Roberto Bolaño, an author who was at the first edition of Kosmopolis, in 2002, and to whom we dedicated an exhibition, in 2013: "The Skating Rink really had me hooked, not only because of its detective-story plot but because of the characters (main and secondary alike) and how it is written. It is set in the summer and transports you to the Costa Brava… And the astute way in which it deals with subjects such as love, immigration and corruption".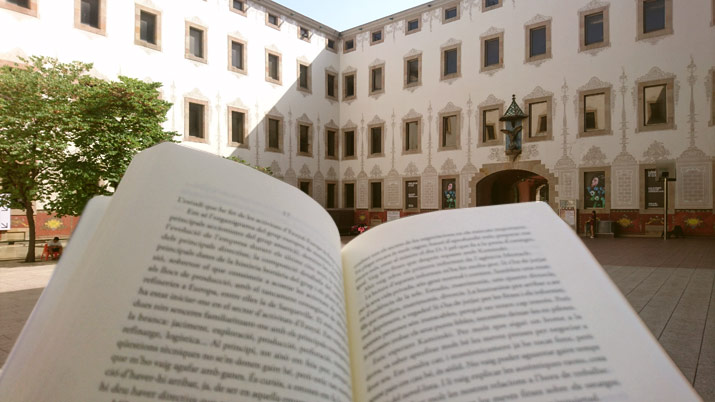 The proposal of Edgar Riu, who is in charge of filling the website with contents, is the reading of Anima, by Wajdi Mouawad, who participated in Kosmopolis in 2011, one year before his play Incendies became the theatre hit of the season. Edgar explains: "To combat the summer heat I recommend the cold territories of Anima. The novel is a journey to the memory and the most animal part of the human being. A dark and violent story with a hint of classical tragedy".
The great discovery for Eva Rexach, head of the festival's social networks, has been Pierre Lemaitre (Kosmopolis 2017), an author whose work she had not read previously since she is not a big fan of crime novels. But a copy of his latest book, Cadres noirs, fell into her hands and was enough to spark her curiosity. The book she recommends is Au revoir là-haut, "a detective novel set in the First World War with three magnificent main characters and brilliantly written". She also proposes Chesil Beach by Ian McEwan (Kosmopolis 2011 and Kosmopolis Continuous Programme 2017), "a tale of how a person's life can change because of a misunderstanding. It's a sad but at the same time very well told story that talks about guilt and the decisions that must be taken (or are not taken) in life".
Susana Fernández formed part of the K17 advertising team and she recommends these three authors: Toby Litt (Kosmopolis 2008): "I choose Muerte en directo (Corpsing), a story of love that perhaps isn't love; a criminal investigation undertaken by… the victim? I found it all very interesting (form and content) and also well translated, which is very important";  Mathias Énard (Kosmopolis 2011 and 2015): L'alcool et la nostalgie: "I choose this book because in a few pages it manages to talk about everything that, in my opinion, is important: love and death and where we are heading and why… Three characters, no more. Plus the odd secondary one. Truly a beautiful book." And finally, J. M. Coetzee (Kosmopolis 2008), an author from whom she chooses two books, Slow Man or Elizabeth Costello. "I can't really choose between the two. Yes, I loved the others; but with these two I would be prepared to make them compulsory reading at any university, library, etc. I find the way in which the author manages to captivate the reader with his words that are apparently simple and understandable (very much so!) yet that at the same time make you think about issues from a different viewpoint (imaginable or not) to be formidable and compelling!"
Finally, Juan Insua, director of Kosmopolis, admits the difficulty in choosing one or even several authors, because all the participants of the different editions have contributed something relevant to the project's evolution, participating in the creation of an amplified, cross-cutting, expanded literature. Even so, Insua opts to suggest books by three scientists whose works are a good approach to the change in sensitivity that we need to tackle the challenge of global warming. Lab Girl, by Hope Jahren and Brilliant Green: The Surprising History and Science of Plant Intelligence, by Stefano Mancuso, because they enable us to understand the decisive importance of trees and plants for the future of the planet. And Beyond Words: What Animals Think and Feel  by Carl Safina, because it shows the similarity between human and non-human consciences and the empathy that leads us to re-think about how we interact with animals. All three authors took part in Kosmopolis 2017.
We hope that with this selection your summer reading is varied and thought-provoking and helps open up the door to more and better stories. Enjoy your holidays!