A journey through Scottish creativity with Neu! Reekie!
Eva Rexach
02 February 2017
Beyond the clichés about men wearing kilts and villages hidden in the mist, Scotland, and Edinburgh in particular, is one of Europe's most outstanding creative centres. And some of the most outstanding names of «Neu! Reekie!» festival will be at Kosmopolis.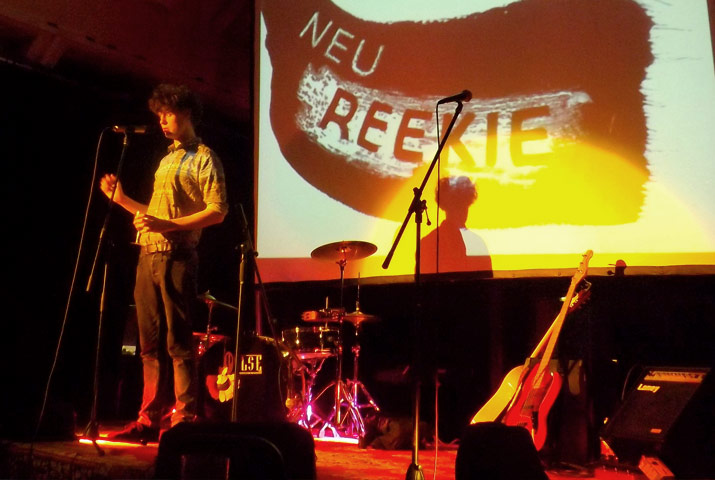 Andy MacLeod | CC BY-NC-SA
When you think of Scotland, you think of castles, mist, stone houses and people rolling their "R"s. You think of men in kilts and Ewan McGregor running through the streets of Edinburgh; the music of Franz Ferdinand, the novels of Stevenson and the poetry of Robert Burns. And Connery—Sean Connery.
But beyond the clichés, Scotland, and Edinburgh in particular, is one of Europe's most outstanding creative centres. It hosts the Fringe, one of the most ground-breaking performing arts festivals on the present-day scene, part of the Edinburgh Theatre Festival, a benchmark in the cultural world. And it was also in Edinburgh, six years ago, that a project called Neu! Reekie! was born. This "literary, music and animation collective with an international output; plus a record label and publishing house in tow" organises events in which music and the spoken word take to the stage.
Anything can happen at a Neu! Reekie! event: poets recite, actors give monologues, musicians improvise, artists perform… Neu! Reekie! is a creative explosion, a space to discover what's new in Scotland, the biggest voices, upcoming artists and the creators who've earned themselves the title of "official representative of Scotland"; Irvine Welsh, John Giorno or Primal Scream, to name just a few.
This year, a little piece of Edinburgh will be brought to #Kosmopolis by Michael Pedersen and Kevin Williamson, the artistic directors of Neu! Reekie! A name which, incidentally, refers to the reek of the city in far-off times: imagine the old town, a densely populated area with insufficient sewers and no streetcleaners, permanently invaded by the smog caused by burning coal and wood to heat the homes. According to the festival's creators, "Neu! Reekie! is now the whiff of art and creation in the city", as well as a tribute to the German avant-garde krautrock group Neu! and poet Paul Reekie, an icon of the Scottish literary scene in the 1990s.
A delegation of contemporary Scottish creation
Neu! Reekie!'s programme at #Kosmopolis will be an opportunity to discover the contemporary creation of the country of clans: a feast of music and poetry, animation and screenings. It includes FiniTribe, an Edinburgh electronic music group formed in the mid-eighties, creators of De Testimony, the dancefloor anthem of the Balearic Beat and one of the reference groups of the acid house movement of 1989. Two of the original members, David Miller and John Vick, will be mixing some of their hits in what promises to be a don't-miss vintage electronic session.
We'll also have the music of another mythical Scottish band: The Vaselines. Their lead singer, Eugene Kelly, will be performing songs from their repertoire, and might even recover some anthems for a generation of a band that were Kurt Cobain's favourite composers.
The poetry will be provided by the voice of Jackie Kay, recently appointed Scots Makar (national poet, a title recognised by the Scottish Parliament, like a court poet), who'll be reciting her work, which has earned her several literary prizes. And there'll also be screenings, and talks about the festival and about Edinburgh, UNESCO City of Literature. Barcelona held this title in 2015, and we can't wait to see what the resulting cultural link has to offer!