Laura Huerga Ayza
Publisher and founder of the independent publishing company Raig Verd.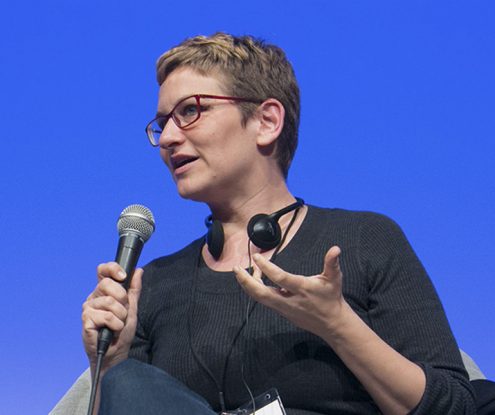 © CCCB, 2017. Author: Miquel Taverna
Laura Huerga is a publisher and founder together with Jordi Fernández of Raig Verd Editorial, which publishes narrative and non-fictional essay for adults with the aim of giving more space to inquisitive, committed, bold, non-conformist and demanding works from a broad diversity of cultures and languages.
The first book of narrative published by her company, A dalt tot està tranquil [Boven is het stil] by Gerbrand Bakker, won the Llibreter (Bookseller) Prize. In the year 2015, in the same month that Svetlana Alexievich received the Nobel Prize, they published her work Temps de segona mà. La fi de l'home roig [Second-Hand Time. The Last of the Soviets].
It has published authors such as Kevin Barry, Jean Echenoz, Ali Smith, Peter Handke and Ngugi wa Thiong'o and has received international accolades as a prominent publisher in its quest to offer quality literature.
Laura Huerga is chair of the "Llegir en català" association of independent publishers.
Update: 31/01/2017
Previous activities
Presentation of the Book Women Writers in Catalan
OPENING. When everything changes
Laura Baena (Edicions de 1984), Daniel Osca (Sajalín), Laura Huerga Ayza (Raig Verd Editorial) and Gabriel Bravo (Editorial Morsa). Moderator: Martín Gómez (elojofisgon.com)