Jose Valenzuela Ruiz
Engineer and Doctor in Humanities, he is an expert in neuroscience, engineering, literature and virtual reality.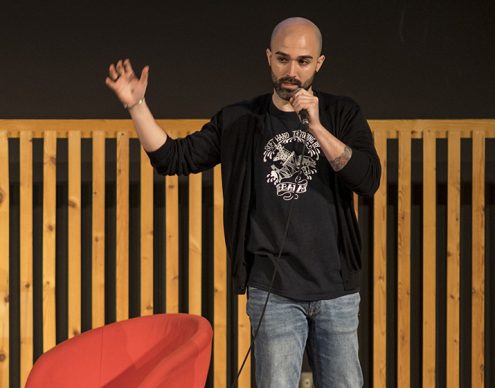 © CCCB, 2017. Author: Carlos Cazurro
José Valenzuela (Terrassa, 1982), is a doctor in humanities, an electronics technical engineer, automatics engineer, master in biomedical engineering, MBA and master in literary creation. He has worked as a laboratory engineer at the Nanomaterials and Microsystems Group at the UAB and in the Cognitive Neuroscience Research Group (Brainlab) of the UB, and as project manager in the innovation department of Vall d'Hebron University Hospital. He currently divides his time between research in literature and cognitive sciences, his work in neuroscience and virtual reality at the University of Barcelona's EventLAB and writing for Jot Down Magazine and other cultural media.
Update: 31/01/2017
Previous activities
Jose Valenzuela Ruiz (UPF)