Carles Muro
(Català) Arquitecte per l'Escola Tècnica Superior d'Arquitectura de Barcelona (ETSAB), 1991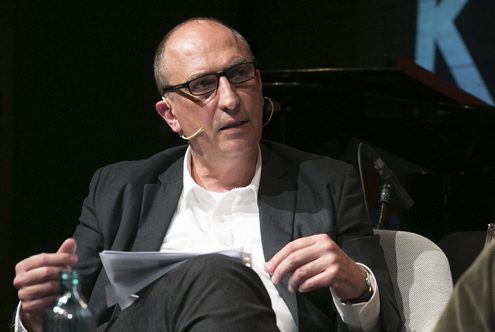 © CCCB, Miquel Taverna, 2019
Carles Muro (Barcelona, 1964) studied architecture at the ETSABarcelona, where he graduated in 1991. He worked with Elías Torres and José A. Martínez Lapeña in Barcelona (1987-1991) and Álvaro Siza in Porto (1992-1993) before setting up in private practice in 1993. Built projects include the Public Market in Inca (Majorca), and the Health Care Centres in Castellar del Vallès and Tordera, near Barcelona. The work of his practice has been extensively exhibited and published worldwide.
He has served as member of the editorial and advisory board of several architectural periodicals and co-director of the "Pre-Textos de Arquitectura" book series. A selection of his writings was collected in the volume Arquitecturas Fugaces (Lampreave, Madrid, 2007).
Carles Muro held teaching positions at the ETSABarcelona (1993-2015) and was Director of the Masters Programme "Arquitectura: Crítica y Proyecto" at the Universitat Politècnica de Catalunya (Barcelona, 1998-2002). He was Unit Master at the Architectural Association School of Architecture (London, 1996-1998) and taught at the Harvard University Graduate School of Design (2013-2018), where he was appointed Associate Professor of Architecture. He is currently the Curator of Architecture of the Serralves Museum of Contemporary Art in Porto.
Update: 13/03/2019 12:00 am
Previous activities
Narratives of the Homo Faber