Nuccio Ordine
Italian lecturer in literature and author of various books that defend the value of humanistic knowledge versus utilitarian purposes.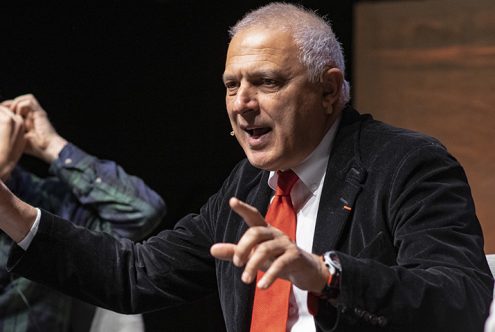 © CCCB, Carlos Cazurro, 2019
Nuccio Ordine (Diamante, 1958) is a lecturer in Italian Literature at the University of Calabria and the author of various books, many based around the figure of Giordano Bruno and the Renaissance. He has been visiting lecturer at centres such as Yale, Paris IV-Sorbonne, CESR in Tours, IEA in Paris, the Warburg Institute and the Max Planck Society in Berlin.
He achieved a major media echo with his publication of The Usefulness of the Useless (Paul Dry Books, 2013), a text where he defends the importance of the study of humanities which became a best-selling phenomenon in countries such as Italy, France and Spain. In his latest work, Classici per la vita (La nave di Teseo, 2017), Ordine comments on around fifty books that, in his view, are essential for awakening the critical spirit.
Update: 14/02/2019 12:00 am
Previous activities
Eulogy for the Critical (and Useless) Reading of Stories