Kim Stanley Robinson
Considered one of the most prestigious science fiction authors worldwide, he is one of the main exponents of climate fiction.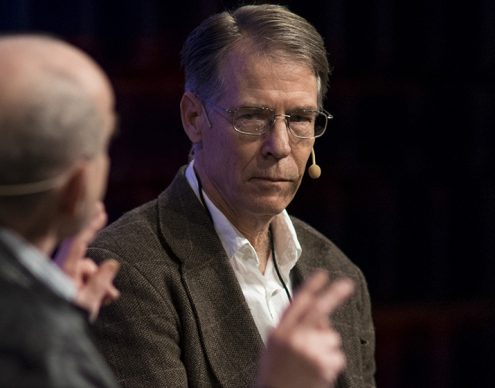 © CCCB, 2017. Author: Carlos Cazurro
Kim Stanley Robinson (Illinois, 1952) is one of the most prolific and famous American science fiction writers. His work, which delves into ecological themes, has positioned him as the maximum exponent of climate fiction, a sub-genre of science fiction that began with J.G. Ballard and his novel The Drowned World.
Robinson is especially well-known for his Mars Trilogy, honoured with the Nebula and Hugo awards, and has published numerous short stories along with nineteen novels, prominently including Antarctica, The Years of Rice and Salt, Galileo's Dream, 2312 and Shaman: A Novel of the Ice Age, which have earned him other important distinctions, such as the Asimov's Reader Poll, the John W. Campbell Award, the Locus Award and the World Fantasy Award.
His latest novel is Aurora.
Update: 22/02/2017 12:00 am
Previous activities
The New Reality: Climate Fiction