Simon Roy
Author of Kubrick Red: A Memoir, his critically-acclaimed debut essay.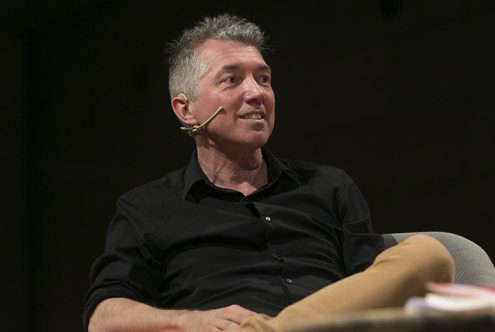 © CCCB, Miquel Taverna, 2019
Simon Roy (Canada, 1968) teaches literature at the Collège Lionel-Groulx in Quebec. Following a fascination of years with the narrative and symbology behind The Shining (1980), Roy decided to devote his days to studying Kubrick's film in minute detail and to dig deeper into his own obsession. This process materialised as Kubrick Red: A Memoir (Anvil Press, 2016).
Roy not only analyses Kubrick's proposal, based on the novel by Stephen King, but also connects the disturbing events that take place in the Overlook Hotel with the darkness of his own family past. Kubrick Red: A Memoir is a quest for answers from various angles: from the occultist, passing through the Freudian and including the historical and cultural viewpoints.
Simon Roy's book was runner-up at the Grand Prix du livre de Montréal and the Ringuet Prize awarded by the Académie des Lettres du Québec. It was awarded the Prix des Libraires du Québec in 2015 for best novel of the year.
Update: 23/01/2019 12:00 am
Previous activities
Let the Elevator Doors of The Shining Open
The Stories that Move Kubrick