Ian Watson
One of Britain's leading science-fiction writers, whose work stands out for its imagination and intellectual depth.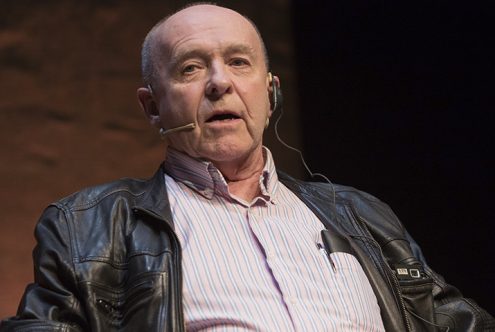 © CCCB, Miquel Taverna, 2019
Ian Watson (Tyneside, 1943), the son of a postal worker and raised in the north of England, graduated from Balliol College, Oxford, in 1963 with First Class Honours in English Literature. Following a research degree, he lectured at universities in Tanzania, Japan and at the School of History of Art in Birmingham.
He became a full-time writer in 1976 following the success of his first novel, The Embedding (1973), which won the John W. Campbell Memorial Award and the Prix Apollo.
Subsequently he published 31 science-fiction, fantasy, and horror novels and 15 story collections as well as his collected poems, Memory Man (Leaky Boot Press, 2014) and is credited as the author of the screen story of A.I. Artificial Intelligence (directed by Steven Spielberg, 2001) based on 9 months' work with Stanley Kubrick.
Update: 19/01/2017 12:00 am
Previous activities
The New Reality: Climate Fiction