Marta Sanz
Winner of the Herralde Novel Prize 2015 with Farándula, she is one of the most acclaimed voices of her generation.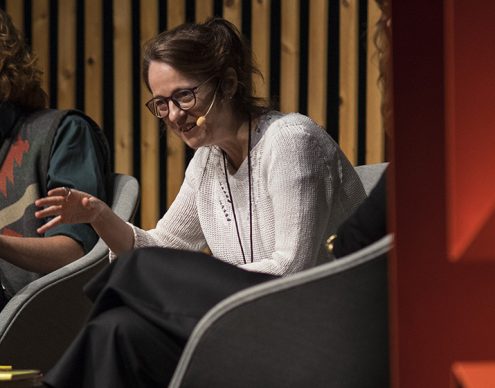 © CCCB, 2017. Author: Carlos Cazurro
Marta Sanz (Madrid, 1967) is a writer and holds a PhD in philology. In 2015, she won the Herralde novel Prize for Farándula (Anagrama, 2015). Previously she had published El frío (Debate, 1995 / Caballo de Troya 2012); Lenguas muertas (Debate, 1997); Los mejores tiempos (Debate, 2001), El Ojo Crítico Prize; Animales domésticos (Destino, 2003); Susana y los viejos (Destino, 2006), runner-up for the Nadal Prize; La lección de anatomía (RBA 2008 / revised and expanded: Anagrama, 2014); Black, black, black (Anagrama, 2010); Un buen detective no se casa jamás (Anagrama, 2012); Amour fou (Bravura Books, 2013) and Daniela Astor y la caja negra (Anagrama, 2013), Tigre Juan, Cálamo and Estado Crítico Awards.
Sanz won the Mario Vargas Llosa NH Prize for Short Stories in 2006 with the tale Regalos, has published Metalingüísticos y sentimentales: antología de la poesía española (1966-2000), 50 poetas hacia el nuevo siglo (Biblioteca Nueva, 2007) and is the author of four volumes of poems: Perra mentirosa / Hardcore (Bartleby, 2010), Vintage (Bartleby, 2013) and Cíngulo y estrella (Bartleby, 2015).
His latest novel is Clavícula (Anagrama, 2017).
Update: 19/12/2016 12:00 am
Previous activities
The Walk by Robert Walser