Chadia Arab
Geographer and researcher, specialist in migratory movements from Morocco to Europe and the Persian Gulf.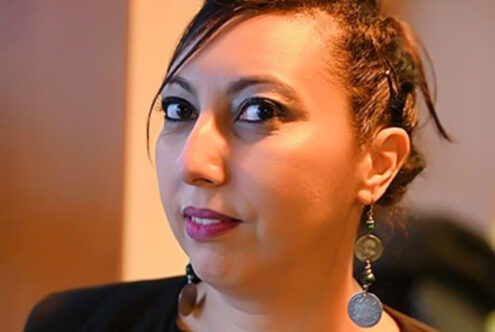 ©︎ Ediciones del Oriente y del Mediterráneo
Chadia Arab (Angers, 1977) is a French-Moroccan geographer, a lecturer in Social Geography and Geography of Migrations at the University of Angers, and a CNRS -UMRESO-Angers researcher who mainly studies Moroccan migration to Europe and the Persian Gulf. Since 2019, she has been president of the Forum of International Solidarity Organisations, which brings together some 700 associations working in sub-Saharan Africa, North Africa, Southeast Asia, the Caribbean, and the Indian Ocean.
In 2018, she published Dames de fraises, doigts de fée, which is translated into Spanish as Las señoras de la fresa (The Strawberry Ladies, Ediciones del Oriente y del Mediterráneo, 2020), the result of her research on Moroccan women working in the strawberry fields of Spain. The book reveals the criteria and contracting techniques applied in this area, and uses concepts like docility, vulnerability, and sexualisation of work. In the United Arab Emirates, she works on the image of the prostitute, always associated with the Moroccan woman who works in a foreign country. She has also studied the vulnerability of workers during the COVID-19 pandemic. With an intersectional perspective she explores the triple vulnerability of women in their gender, social origin, and nationality.
Previous activities
Paving the Way for Freedom