Anna Ferrer
A singer and composer, she combines folklore and avant-garde.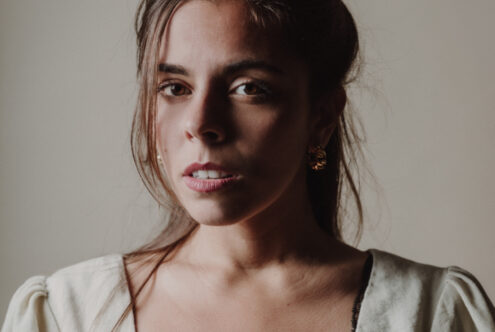 © Image courtesy of Anna Ferrer
Anna Ferrer is a Menorcan singer and composer, who works to combine tradition and folklore in an opening up to aesthetic avant-garde. She completed advanced music studies, specialising as a jazz singer at the Taller de Músics in Barcelona, a venue that has enabled her to work with such folk artists and singer-songwriters as Coetus, Toti Soler, Clara Peya, and Salvador Sobral. She is a member of the folk group S'Albaida, with which she has participated in musical events around the world, notable among them being the Mediterranean Fair in Manresa, the Ninth International Cuartu Los Valles Folk Compètition in Asturias, and the Ollinkan Folk Festival in Mexico.
She began her solo career in 2017 with the album Tel·lúia, with which she pays homage to the island of Menorca. In 2019, she released KRÖNIA, where she takes folklore to a more universal sonority by means of electronic processing of sound. She has also been associated with projects that, conceived as a form of activism, go beyond the musical dimension. With her present project Parenòstic, she explores in greater depth her more theatrical and performative facet. She is also a soloist in the Orquestra de Músiques d'Arrel de Catalunya (Roots Music Orchestra of Catalonia – OMAC).
Previous activities
With Eyes of Salt: Poetry and Music in Three Movements