Paco Roca
Winner of the National Comics Prize for Arrugas, he is one of the most popular contemporary Spanish comics authors.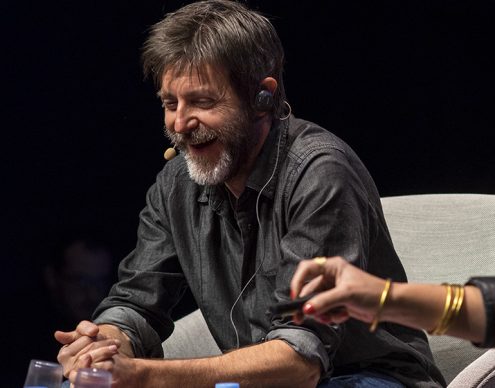 © CCCB, 2017. Author: Carlos Cazurro
Paco Roca (Valencia, 1969) is a comics author and illustrator. In 2008, he won the National Comics Award for Arrugas (Astiberri, 2007), which also took the awards for Best Album and Best Script at the Comics Festival in Barcelona, and the best album at the Lucca and Rome festivals. Roca collaborated on its adaptation for cinema, for which he received the Goya for the Best Adapted screenplay and the Mestre Mateo Award for the Best Artistic Director and Best Script.
On various occasions he has been awarded major recognitions at the Salón del Cómic in Barcelona and at Expocómic. He has published over twenty works, prominently including: El Faro (Astiberri, 2004); Las calles de arena (Astiberri, 2008); Emotional World Tour (Astiberri, 2009); El invierno del dibujante (Astiberri, 2010); the humour series for press Memorias de un hombre en pijama, compiled into two books based on which he is currently directing an animated feature film: Los surcos del azar (Astiberri, 2013) and La casa (Astiberri, 2015).
Update: 19/12/2016 12:00 am